Ingredients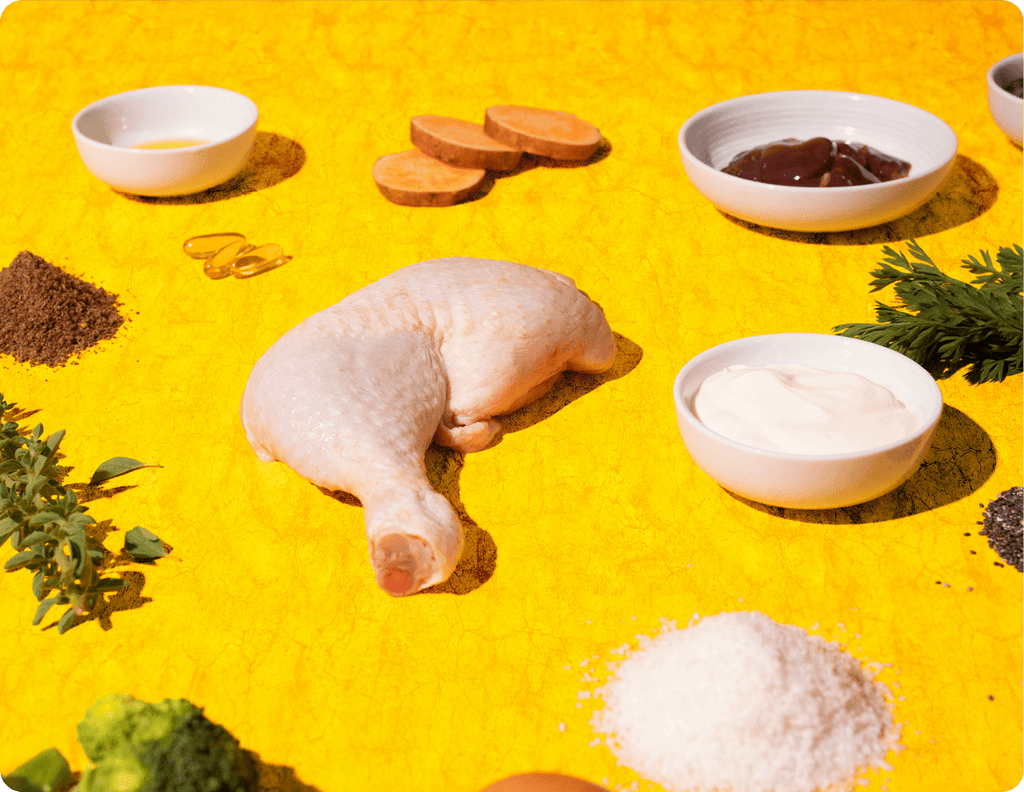 Chicken
- Meat
- Bone & cartilage
- Liver
- Heart
Sweet Potato
Carrots
Celery
Chicken eggs
Cold pressed flaxseed meal
Tasmanian salmon
Yoghurt
Coconut
Strawberries
Cold pressed flaxseed oil
Blueberries
Turmeric
Chia seeds
Kelp powder
Oregano

Vitamin and Minerals
Vitamins A, B1, B2, B6, B11, B12, D, E, K, Niacin, Folic Acid, Biotin, Choline, Pantonthenic Acid
Essential Minerals
Iron
Zinc
Copper
Manganese
Essential Oils & Amino Acids
Taurine
Omega 3
Omega 6
Best suited for
Small & large puppy
For all puppies post weening. All breeds and sizes included.
All breeds and sizes
For adult dogs of any age, all breeds included.
Post op recovery
For dogs who have undergone a procedure, easy to eat and easily digestible.
Fussy divas
For fussy doggos that want only the best of the best.
Guaranteed Analysis
Sustained Energy Release
A scientifically balanced formula with complex carbohydrates and low GI ingredients like sweet potato.
Muscle Health
A high protein content to help with muscle repair for all dogs, regardless of their activity level.
Shiny Coat & Healthy Skin
A healthy mix of Omega 3 & 6 essential fatty acids, low fat content and a complete mineral mix.
Metabolic Energy per 100g
137kcal
Metabolic Energy per patty
309kcal
Patty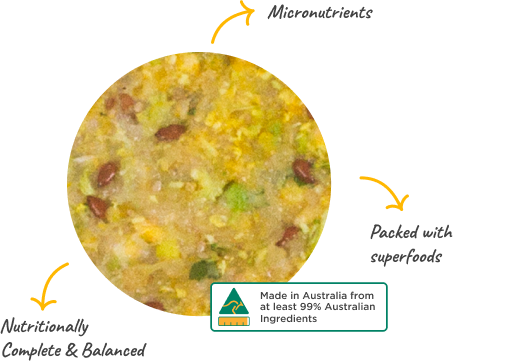 No. of patties per box
12
Raw bones & cartilage
Soft bones and cartilage are important to provide calcium and phosphorous for strong bones and teeth.
Offal
Organ meats are a small but vital part of a BARF diet as they provide essential vitamins, minerals & protein.
Fruit & veggies
Fruits veggies contain caroteniods, flavonoids, antioxidants, and many other phytochemicals that are benefical to immue function and health.
FAQs
Does the chicken Oil contain any protein?

Your doggo is family. We get it!

So, when your fur baby has an allergy we understand you want to know it all. Need to know rather!

The chicken oil used in our Kibble That Counts range does not contain any protein, it is filtered and purified prior to application.

If your dog does have an allergy to chicken it is perfectly safe to consume filtered chicken oil.

As always, please consult your vet for specific medical advice pertaining to your dog. 
Can I get a sample of your kibble to try before committing to a plan?

You bet you can!

We get it, some dogs are fussy eaters and some have super sensitive tummies. Much like us hoomans!

We have a range of flavours for your doggo to sample so you can be sure they love it BEFORE you stock up!

We can send you a sample (~100 grams) of our Kibble That Counts range to try. 3 amazing flavours to choose from! There's something for even the fussiest eaters!

All we ask is that you cover the teeny tiny, delivery fee. The sample itself is on the house. Shipping is $5 per flavour.

Alternatively, we do have a 100% taste satisfaction guarantee on our Petzyo meal plans. We will give you a full refund on your first box if your doggo isn't a fan of Petzyo (Applicable to 8kg orders and under). For further details, check out our returns policy.

But the good news doesnt stop there! Recently we introducted trial products to our range. What does TRIAL mean? You don't need to settle for 100grams and you don't have to commit to one of our Petzyo plans (though they are fully flexible!) Now, you can buy one-off!

We have something for everyone! Dogs and hoomans alike.
How fresh is your Kibble?

As fresh as you can get!

Because we run a subscription model, we make our kibble based on the number of orders we receive. Fresh really is best!

What does this mean? It means you'll get the freshest food for your dog! Not something that's packed with preservatives and sitting on a supermarket shelf for months at a time.
Can my puppy eat your dry dog food?