Ingredients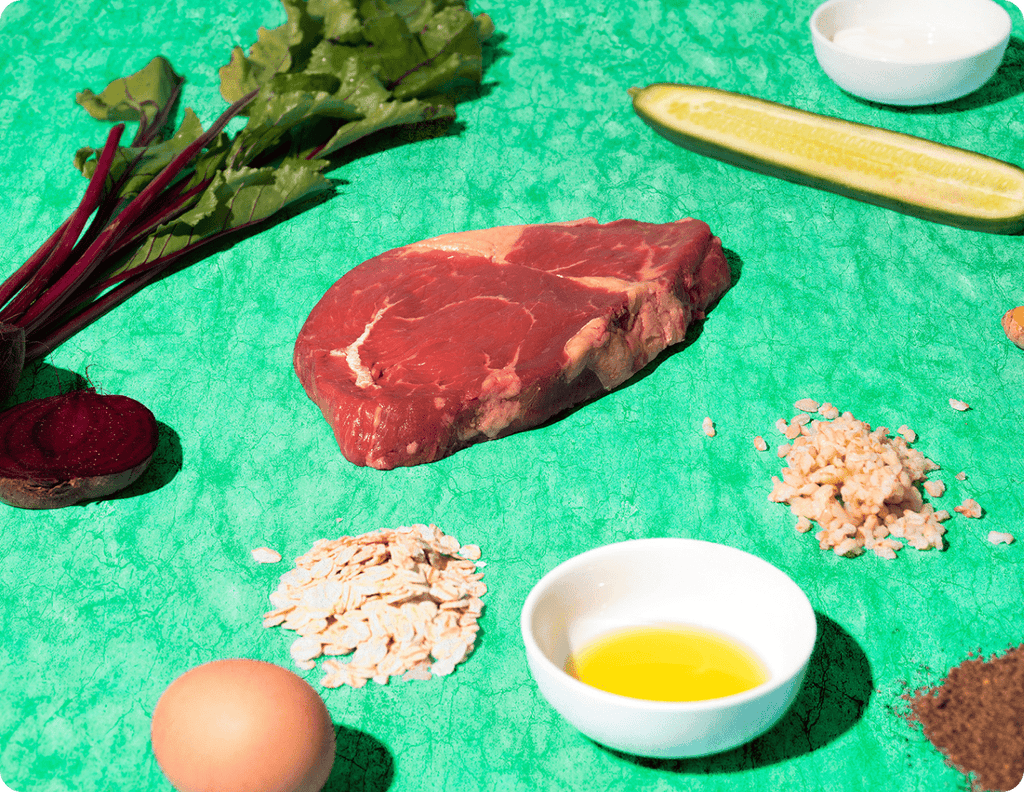 Beef
- Meat
- Heart
- Bone & cartilage
- Liver
- Kidney
Celery
Green beans
Beetroot
Chicken eggs
Cold pressed flaxseed meal
Tasmanian salmon
Yoghurt
Coconut
Strawberries
Cold pressed flaxseed oil
Blueberries
Turmeric
Chia seeds
Hemp bran
Kelp powder
Rosemary

Vitamin & Minerals
Vitamins A, B1, B2, B6, B11, B12, D, E, K, Niacin, Folic Acid, Biotin, Choline, Pantonthenic Acid
Essential Minerals
Iron, Zinc, Copper, Manganese, Iodine, Selenium
Essential Oils & Amino Acids
Taurine
Omega 3
Omega 6
Best suited for
Small to large puppies
For all puppies post weening. All breeds and sizes included.
All breeds and sizes
For adult dogs of any age, all breeds included.
Post op recovery
For dogs who have undergone a procedure, easy to eat and easily digestible.
Weight gain
For dogs who need to gain some chunkiness.
Guaranteed Analysis
Sustained Energy Release
A scientifically balanced formula with complex carbohydrates and low GI ingredients like sweet potato.
Muscle Health
A high protein content to help with muscle repair for all dogs, regardless of their activity level.
Shiny Coat & Healthy Skin
A healthy mix of Omega 3 & 6 essential fatty acids, low fat content and a complete mineral mix.
Metabolic Energy per 100g
137kcal
Metabolic Energy per patty
309kcal
Patty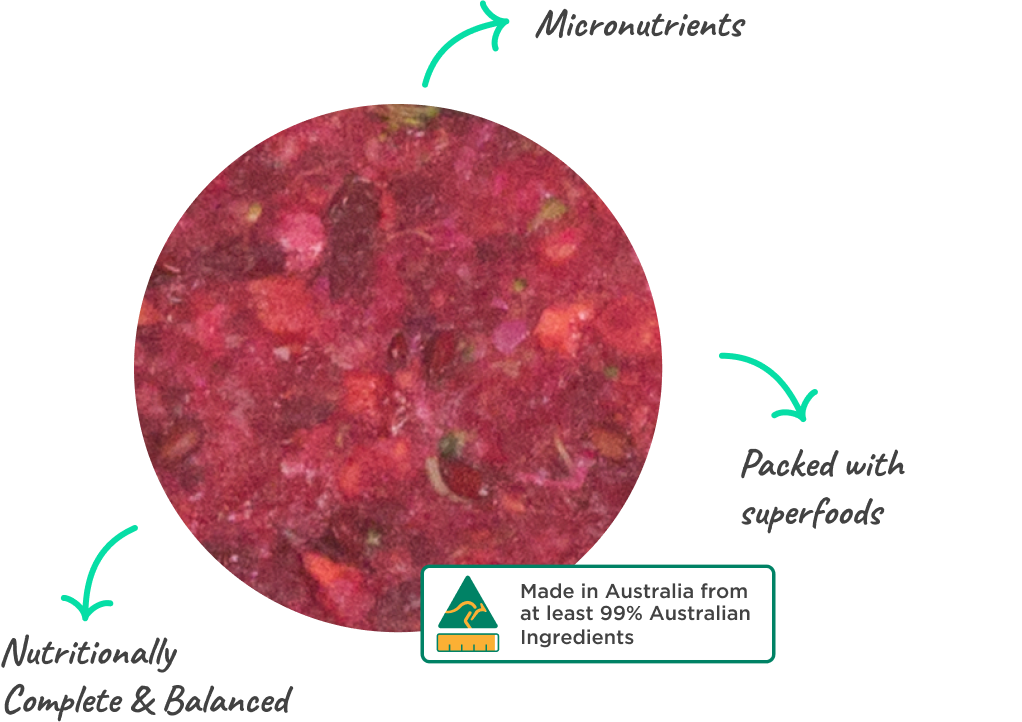 No. of patties per box
12
Raw bones & cartilage
Soft bones and cartilage are important to provide calcium and phosphorous for strong bones and teeth.
Offal
Organ meats are a small but vital part of a BARF diet as they provide essential vitamins, minerals & protein.
Fruit & veggies
Fruits veggies contain caroteniods, flavonoids, antioxidants, and many other phytochemicals that are benefical to immue function and health.
FAQs
Are the meats in the raw patties human grade?

Our 'Chick Magnet' and 'Got Beef' patties contain 100% human grade meats and animal parts. All the other non-meat ingredients contained in our raw patties are human grade too.

Our 'Roo's Clues' patties are not classified as human grade, because we use wild kangaroo from the outback. Did you know that there are approximately 40 million kangaroos in this great land down under? What's more, often when kangaroos are culled, their meat is discarded and only their hide is sold to the highest bidder. We chose this excellent protein as it's hormone free, sustainable, and rich in iron and protein. Also, since kangaroo is natural to the Australian landscape, it doesn't damage precious flora.

We're proud to say that all the meats contained in our raw products are preservative free and 100% natural too. 

 Please note: our patties are designed for dogs only and are not for human consumption (no matter how delicious they look).
Does your Raw Food contain offal?

Our Raw Royalty range does contain internal organs such as heart, bone & cartilage, liver, and kidney. 

 

You can review all of the ingredients of our Raw Royalty food range through this link.
Can I get a sample of your raw food to try?

Unfortunately, we can't send samples of our Raw Royalty patties for logistical reasons, but we do have a 100% taste satisfaction guarantee. We will give you a full refund on your first box (5.4kg only) if your pup isn't a fan of Petzyo. For further details, check out our returns policy.
How much do your raw patties weigh?

Our raw patties weigh 225 grams each. The 5.4kg box contains 12 patties and the 10.8kg box contains 24 patties. They're paw-fect for storing and easy to defrost and portion!